Douglas Fir National Monument Trails
This map gives the approximate location of the trails below within the proposed Douglas-fir National Monument.
The numbers shown on the map correspond to the numbers (below) used to list the trails.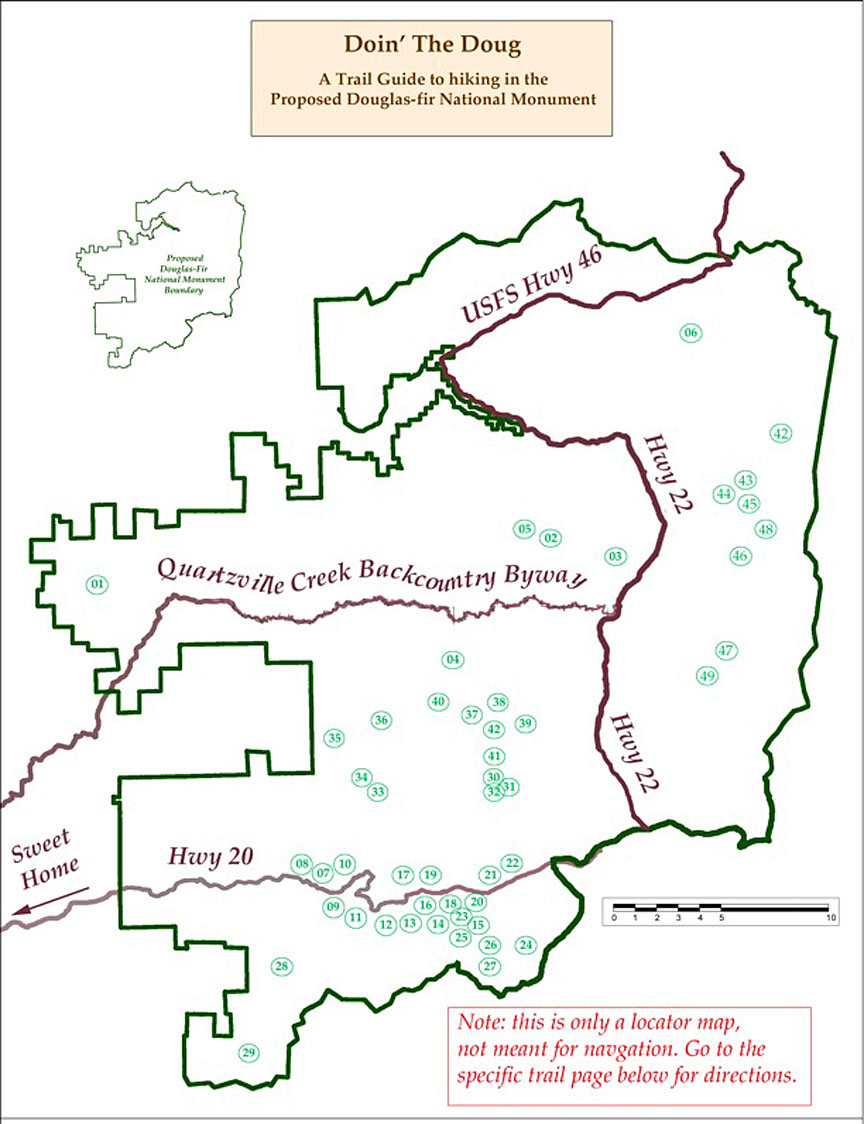 Fire Impact.

The Lionshead and Beachie Creek fires last year (September 2020) and the Bruler fire in 2021 have closed many trails in the area of the proposed Douglas-Fir National Monument. We have tried to note the closures here. Conditions are subject to change, and the listings here may not be complete and may not reflect the conditions when you are planning a trip. Be sure to check the Willamette National Forest Alerts and Notices page.
There are more specific notes for the Bruler closure notice and the Lionshead and Beachie Creek closure order and an High Resolution Map is available. Be careful, if these links no longer work, it is probably NOT because the closures are ended, but because the closures have changed and so a new link has replaced the ones given here. The Friends will continue to monitor and update as they can, but the final responsibility for checking falls on you, the user.




Trail Ethics.
True friends of the wild are careful when they visit and respectful of the wild and of other visitors. The Forest Service has developed a list of Leave No Trace Principles that everyone should consider and take to heart. These principles cover not just wilderness visits, but all visits to the woods, trails and campgrounds.
Below is a partial list of Trails in the Doug, corresponding with the numbers on the map above. The links will take you to more detailed descriptions with directions to access the Trails.

Be Careful. Have Fun.

Back to the Plan your Visit Page